Manager, Quality and Risk Management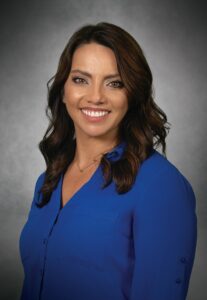 Missy Soliz is the Quality and Risk Manager (QRM) for Mississippi Valley Surgery Center and Mississippi Valley Endoscopy Center. As QRM Manager, she is responsible for the administration, development, implementation, and evaluation of the facility's overall Quality Improvement and Risk Management Programs. Key activities include collaboration with the leadership team on facility-wide QRM activities, policy and procedure development, staff development and education, risk identification and mitigation, trend identification, improvement plan development and implementation, change management oversight and management of compliance with regulatory and Accreditation Association for Ambulatory Health Care (AAAHC) standards and requirements. Missy serves as a quality, risk management, and compliance resource for all staff members and health care providers in both facilities.
Missy has been a Registered Nurse since 2002. During her career, she has assumed a wide variety of roles including direct patient care provider in critical care, cardiovascular stepdown, and perioperative nursing departments, charge nurse, safety ambassador/officer, clinical coach and educator, quality coordinator, infection preventionist, preadmission nurse, regulatory compliance coordinator, and materials manager. She began her professional career as a critical care nurse in the Surgical Intensive Care Unit at Trinity Medical Center, specializing in the post-operative care of post-open heart surgery patients. In 2003, Missy joined Mississippi Valley Surgery Center as a nurse in the pre/postoperative departments. In 2008, Missy took on the role of Quality Coordinator. In October 2011, Missy took her commitment to Quality and Risk Management to the next level by assuming responsibility for the management of the QRM program. In January 2013, Missy became the Quality and Risk Manager.
Missy is a graduate of Davenport West High School. In 2002, she graduated from Scott Community College with an Associate Degree in Nursing and in 2013 she graduated summa cum laude from Trinity College of Nursing and Health Sciences with a Bachelor of Science in Nursing Degree. Missy is a member of the the Association of perioperative Nurses (AORN), the National Association of Orthopaedic Nurses (NAON), the Society for Human Resources Management (SHRM), the national Ambulatory Surgery Center Association (ASCA) and, at the state level, the Iowa Association of Ambulatory Surgery Centers (IAASC). Missy was born and raised in Davenport. She has two children and one grandchild. In her spare time, she enjoys spending time with her family and friends, participating in fitness activities, meditation and yoga, coaching group fitness classes, and she has a love for reading and music.