Michael J. Patterson, FACHE
President and CEO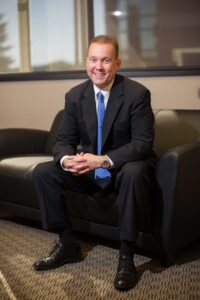 Michael J. Patterson is the President and Chief Executive Officer of Mississippi Valley Health (MVH). He is responsible for overseeing the day-to-day business operations and providing leadership and direction for all aspects of patient care, operational excellence, and business development services provided by MVH.  This includes Mississippi Valley Surgery Center, Mississippi Valley Endoscopy Center, Mississippi Medical Plaza Development Corporation and its related entities.
For the past 20 years his professional career has encompassed a variety of positions in the healthcare field from Staff Nurse in a Level I Trauma Center to Manager of several in-patient nursing units, CEO of The Outpatient Surgery Center of Cedar Rapids and in more recent years as the Chief Administrative Officer  of Unity Point Health Trinity Rock Island, Vice President of Operations and Chief Nurse Executive of Unity Point Health Trinity Regional Health System, where he had Service line responsibility for Surgical Services, Cardiology, Imaging, Ambulance, Emergency services, Facilities, Women's Health, Nursing and several ancillary departments at all three Trinity campuses in the Quad Cities.
In addition, he has served on the Boards of many joint venture healthcare corporations including the Quad City Ambulatory Surgery Center, Metro MRI, and the Advanced Imaging Center.  He is currently a Board member and past Chairman of the American Red Cross of the Quad Cities and West Central Illinois.  He also serves on the national Ambulatory Surgery Center Association (ASCA) located in Washington D.C. of which he is the Chairperson for the Government Affairs Committee and a member of the Finance Committee.  He is a Director and Board Member at SENB bank headquartered in Moline, IL with 7 locations across 3 states.
He served as a Lieutenant Commander in the US Navy.  He was deployed in 2006 and 2007 serving as a Trauma Nurse Specialist, providing Trauma and Emergent care to wounded Service Members.  Michael has served over 23 years in both the Active and Reserve components of the US Navy.  He has received the Navy Commendation Medal, Army Commendation Medal, Navy Achievement Medal, Meritorious Service Medal and many others and is certified as a Combat Warfare Specialist.  He has previously held the position of Officer in Charge of the Expeditionary Medical Force Detachment located on the Rock Island Arsenal.  He retired from Naval service with full honors in April of 2012.
Michael graduated from Blackhawk College with an Associates of Arts degree and continued his education at Northern Illinois University with a Bachelor of Science in Nursing Degree, and the University of Illinois at Chicago with a Masters of Science in Nursing and Administration.  He is a Fellow in the American College of Healthcare Executives.