Elisabeth Evangelista, RN, BSN
Manager, Endoscopy Services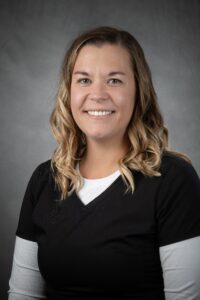 Elisabeth (Lis) Evangelista, RN, BSN is the manager of Endoscopy Services at Mississippi Valley Endoscopy Center. She is responsible for the over-all operations at the endoscopy center including the coordination of clinical staff and keeping the day to day operations moving efficiently for the Doctors. Her focus in providing excellent patient care with high quality outcomes.
Lis started her nursing career in 2003 as a staff nurse in the Neuro Critical Care Unit at St. Francis Hospital in Peoria Illinois. After moving to the quad cities in 2004 Lis took a position in the operating room/ endoscopy department at Illini Hospital in Silvis Il. Until the end of 2011. She made a move to CVM working for an electrophysiologist in the office after having her first son. Doing that position for a little over a year she knew she needed to go back to what she loved, so she accepted a staff nurse position at Mississippi Valley Endoscopy Center in 2013. She moved to charge nurse in 2020 and transitioned to manager in 2022.
She received her associate degree at Black Hawk College in Kewanee Il. Transferring to St. Francis College of Nursing in Peoria Illinois to finish her Bachelor of Science in Nursing degree. She is a member of the Society for Gastroenterology Nurses and Associates.
Lis and her husband are raising their two boys to be Avid Cubs fans. She loves to participate in Local and Country wide races with her family and friends along with going to watch her beloved Cubs at Wrigley Field.